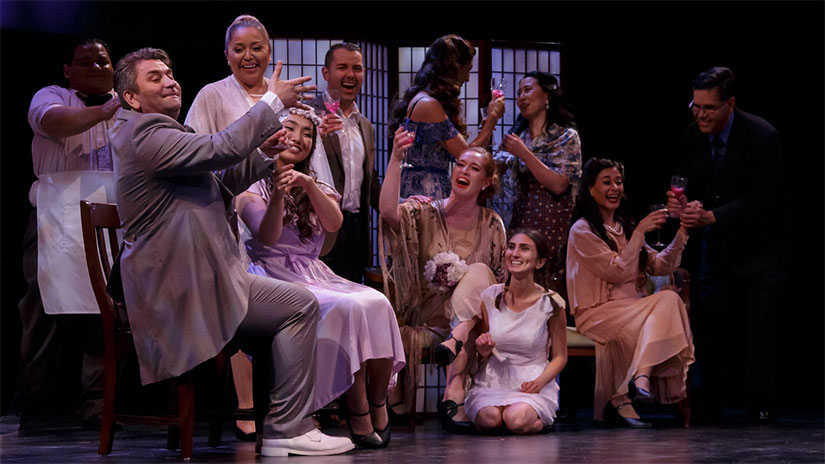 Santa Monica College Opera Theatre (SMCOT) offers the opportunity for students at all levels to explore and refine their skills in opera. We offer Opera Workshop (Music 40), which includes aria workshops and scenes programs as well as Advanced Opera Production (Music 42), a full production alternately done with piano and full orchestra. Our program is recognized as one of the most outstanding community college opera programs in California.
Opera is considered to be a culmination of many arts – music, theatre, dance and art come together to create a spectacular sensory experience for the audience. Students strive to achieve a high level of artistry by studying singing, musicianship skills, languages (especially Italian, French and German), acting and stage movement.
Collaboration is a key element of our program. We regularly collaborate with the SMC Symphony Orchestra, and have also collaborated with SMC Technical Theatre, SMC Dance, SMC Cosmetology, SMC Film as well as our language departments and local middle schools and high schools. Collaboration with professional directors, musicians, production designers and singers provides real industry examples for our students and raises the level of our productions. Opera brings together many students and community members to create an exciting performance for our audiences and an exciting learning experience for our students.
During the period of COVID-19 remote learning, SMCOT has been producing thriving aria and scenes programs. Students receive regular weekly coachings in musicianship, diction, style and phrasing, and presentation. They research the operas they are studying, study character development and acting, and give and receive feedback with their peers.
SMCOT is raising money to fund the expensive costs related to productions and the many facets of learning which opera includes. Your donation today will go directly to support our students in the following ways:
Production design and technology
Sets and Props
Costumes and costume design
Stage Make-up
Orchestra costs including rights, scores, specialized instruments and supplemental instrumentalists
Master Classes and coachings with guest artists
We Appreciate Your Support!
For donations by check, please make your check payable to:
The Santa Monica College Foundation
1900 Pico Blvd.
Santa Monica, CA 90405
On the memo line, please write: SMC Opera