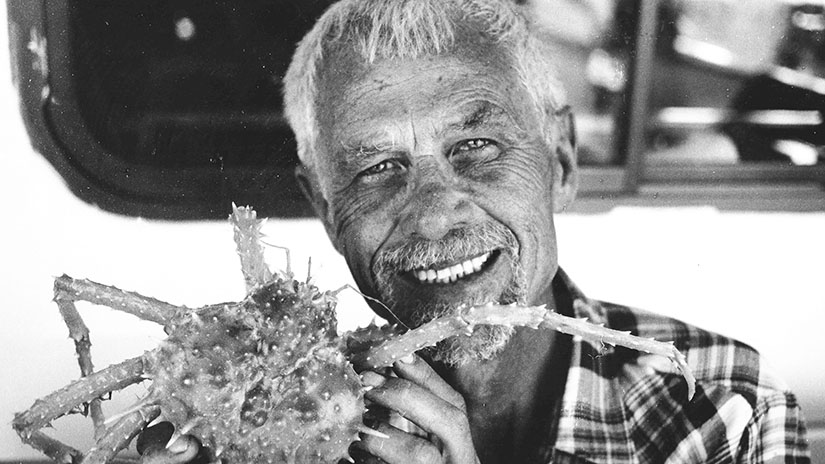 Ed Tarvyd
(1939 - 2015)
Ed's life was an adventure. He started teaching at SMC in 1967 and and taught Marine Biology, Zoology and field study courses for 48 years. He led students on research and field study trips to Morro Bay, the deserts of Arizona, Hawaii and beyond the U.S., to locations including Australia, Fiji, Belize, the Peruvian Amazon, and the Galápagos Islands. Ed's favorite was Tahiti and the atoll (island) of Tetiʹaroa. Beloved by students, Ed was known as a "walking encyclopedia, funny, inspirational, brilliant, and caring." He was also often described as "…out of a Harry Potter book or Indiana Jones with his safari suits," and many students claimed taking his classes led them to change their majors.
Ed was born on January 14, 1939 in Camden, New Jersey to Lithuanian immigrants Stanley and Elizabeth. When Ed was very young, his family moved to Los Angeles. His mother insisted he and his brother go to college as she was forced to leave school in the fourth grade to work on the family farm. A proud Bruin, Ed earned both his Bachelor of Science and Master of Science degrees from UCLA and began his career as a professor at Glendale Community College. Shortly after, he met his wife Lynne and they settled in Culver City, where they would raise four children.
A proud Lithuanian, Ed was a kind man with a photographic memory, a vivid storyteller and he possessed an "intense joy of life," according to his family. He loved drawing and the precise art of stippling. He was an active member and served on the Boards of several biological foundations including the Western Foundation of Vertebrate Zoology, Friends of Ballona Wetlands and the Microscopical Society of Southern California.
Outside of work, he loved hosting parties at his house anytime there was a big boxing match on TV as well as just talking with anyone that just happened to drop by the house.
Ed's family has established a scholarship at the Santa Monica College Foundation for SMC students pursuing a degree in Marine Biology. In lieu of flowers, the family asks for contributions to this scholarship. To donate to the Ed Tarvyd Memorial Scholarship in Marine Studies click below.
For donations by check, please make your check payable to:
The Santa Monica College Foundation
1900 Pico Blvd.
Santa Monica, CA 90405
On the memo line, please write: Ed Tarvyd